Your bed and breakfast likely fulfilled a dream business opportunity when you purchased it. Now you've decided it's time to move on and let someone else make it their dream.
But when the time comes to sell, it's important to exercise the same amount of care as you did in purchasing and nurturing your B&B over the years.
Not only do you want to reap maximum financial benefit from the sale of your B&B, but you want to ensure you leave it in caring and capable hands. If you've established a good reputation over the years and maintained a high level of care as an owner, it may seem like you'll never find the perfect buyer.
But with some diligence, you can separate the emotion from the sale and strike a balance between profit and finding the right buyer.
It's a Seller's Market
For most B&B owners, it's certainly a good time to sell. Much like the housing industry, the travel and lodging markets have been experiencing a boom in recent years. This means lucrative opportunities for current owners and potential buyers alike.
The B&B industry is valued at approximately $3.4 billion, according to recent statistics from the Professional Association of Innkeepers International. There's never been a better time to buy.
So, once you've made up your mind to sell, how do you do it?
Here are some tips you'll want to consider to ensure a smooth process where none of the important details get overlooked:
1. Determine What You'll Sell
The first decision you'll need to make is what all will be included in the sale of your B&B. Will you sell all furnishings, kitchen/dining supplies, and linens? Or will you retain those or sell them separately?
All-inclusive sales can be appealing to a new buyer that wants to reduce startup costs and hit the ground running with a steady income stream. A buyer that's looking to revamp the look and feel of your B&B, however, will not find an all-inclusive sale as valuable.
Since 72 percent of B&B owners are couples, giving buyers the opportunity to retain staff members may not be an option. In some cases, however, you may need to consider the value of offering buyers the option of employing current housekeeping or kitchen staff.
For a sole buyer, having staff that are familiar with the day-to-day operation of a B&B can be a powerful value-add.
2. Understand How Valuation Works
After you've determined what all will be sold, you'll need to determine an appropriate selling price. Arbitrarily coming up with a value based on what you believe your business and its assets are worth will never yield successful results.
As a seller, you must be realistic about what directly impacts the tangible monetary value of your business. For example, while the charm of your B&B and the experience you offer patrons is important, it's an intangible that will not factor into your pricing.
3. Setting the Selling Price
Setting your price isn't as simple as putting a for-sale sign on your business with an asking price. Whatever price you set will eventually need to be backed up with tax returns and other documents related to the income-generating potential of the business, as well as what it costs to keep it running.
Whether or not you retain an appraiser, one will ultimately be appointed by the buyer's bank or lending institution to determine the value of your property and its assets.
Their valuation will be determined by the market and comparable sales in the area over the past 12 to 24 months. They will then make adjustments for variables including location and specific amenities.
The final and key pricing consideration will be your B&B's ability to generate income in the future, also known as Going Concern. Striking a balance between appraisal value and the business' ability to generate income will factor into determining the final selling price of your B&B.
4. Working with Experienced Professionals
Retaining the professionals that can help you in these areas is vital in fetching top dollar for your B&B. A strong market means there will be no shortage of real estate agents — but do your homework.
Find a Realtor that is knowledgeable and has experience in the hospitality and lodging industry. Finding one with specific knowledge of B&Bs is ideal.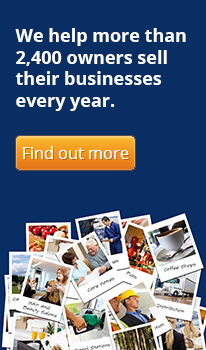 The Realtor you choose should also be savvy in your specific market and location. This will benefit you greatly when it comes to understanding how your B&B stacks up against others in your area and what factors may be key to getting your property sold.
Your Realtor can also advise you on the best tips for preparing your B&B to list, right down to curb appeal and decorating modifications that will make your business more appealing.
Once you're ready to officially list your business, marketing that it's for sale will be key. There are many online resources to help you sell your business, but working with a business broker will ensure that your B&B is listed for sale where it will get the most visibility from serious potential buyers.
You'll also want to retain the assistance of legal and accounting/tax professionals. A tax professional can review your records to ensure everything is in order for buyers that will request to see this documentation.
A legal professional can work in partnership with your Realtor to help you get all of your documents in order and manoeuvre negotiations with potential buyers.
5. Timing and Patience are Everything
Just as with the housing market, there are better times of year than others to list B&Bs for sale. Springtime is typically when people consider new business opportunities. No matter what time of year you're selling, use the season to your advantage. If it's October or November, for example, adorn your B&B with all the charms of the holiday season. If you're selling in the spring or summer, increase the appeal of your outdoor spaces with flowers or greenery.
Above all, be patient! Rushing any business sale is never a good idea. And selling a B&B can be a far more personal endeavor than many other types of business sales. By doing your due diligence and exercising some patience, you can be confident that you'll find the right buyer that will put as much care and passion into running your B&B as you have over the years.