So, you've made the decision to sell your marketing agency, having built a profitable and successful business from the ground up. Yet you may be wondering: what's next? 
How do you ensure you get the best possible deal possible? Here's a number of things to think about so that you can get that sale over the line.
Preparing your business for sale
Stage one is to get a professional valuation from an industry specialist. You can do this through an independent businesses broker; however, some accountants also offer this service. Depending on the answer and what your business goals are, it may be worth getting a second opinion on this. You can then use the average between the two valuations as a considered guide for your asking price. 
The next thing you can do that's most important is get the paperwork for your agency in order. This means organising your company accounts and getting them settled up until the date of sale. You'll need to ensure your incorporation documents, profit forecasts and profit figures are prepared. These are all things a prospective buyer will want when they're considering committing to your business.
Looking attractive to buyers
Historically, service businesses like marketing agencies can be tough to sell. They usually don't have as many tangible assets as the average brick and mortar business and they don't deal in intellectual property. The same can be said for the buying process. 
As an ad agency, your chief asset is your team. This can be a problem for your sale if any of your key players are at risk of leaving. You don't want one of your high-value employees walking out the door at the point of sale!
Ensure the team is well catered for; however, also have contingencies in place should any one of your team leave. 
Additionally, ensure a consistent rate of turnover if you can. Marketing agencies tend to work off of one-off payments for projects or campaigns or use a retainer model for their clients. Try to implement a retainer model if you're thinking of selling the business in future; a steady income stream month to month is more reassuring to prospective buyers.
Facilitating the sale
Organising the actual sale can be done in a number of ways. Apart from listing your business online, one of the easiest methods is to hire a quality business broker. Spend some time researching the right one and build a relationship with them.
Doing your research here can be a good investment; you'll want to make sure you find the right broker for your sale as, ultimately, it'll be their contacts and their reputation that will play a part in the quality of buyer you get.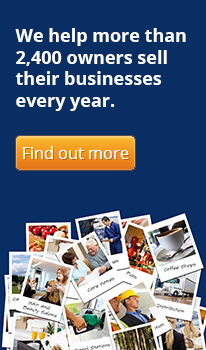 However, you can also leverage your own contacts. As the owner of an ad agency, you'll have your own network of past clients, potential investors, and business owners you can refer to.
Ask around amongst people you can professionally trust and see if they know anyone they'd think would be a good fit for your business. This often costs nothing and you'll be surprised at the quality of buyer you can find just from putting the word out.
Doing the necessary legwork to get your business ready for sale takes time. You should only be putting a business up for sale that you feel is ready to be bought.
Preparing for the sale can take months or even years; however, doing the work and running your business with the foresight that it'll be sold someday can reap serious rewards when the time comes. Planning and patience can reap serious dividends when it comes to the sale of your business – so plan ahead!
For more information on selling your business, have a look through our detailed selling guides!