The Exercise Coach Franchise
The Exercise Coach - Health & Fitness Franchise
Join the world's smartest, simplest and most scalable fitness business opportunity.
Finance requirements

Franchise Fee:

$49,500

Total Investment:

$116,000 – $306,000

Liquid Capital:

$75,000

Areas Available

AK, AR, CT, DE, KY, LA, ME, MA, MS, MO, NV, NH, NJ, NM, OR, UT, VT
Profile
Exercise Coach is a fitness franchise that believes in the effectiveness of brief, focused exercise for fitness and fat loss. Clients exercise for just 20 minutes twice a week, in one-on-one, partner, or small-group personal training sessions.
Overview
Once in a great while something truly different comes along. Truly new technology can transform an industry, and the safest, most profitable time to get into that concept as an owner is before it becomes a household word…but after it has developed enough to have a proven model with a track record of success and replicable systems.
That time is now!
Even the exercise enthusiast is looking for a better way. And certainly the 50+ Baby Boomers are looking for a better way! They want a next-level workout. And, one that makes sense of Exercise Science.
Based on revolutionary fitness science and an industry-leading proprietary fitness data platform, The Exercise Coach Smart 20 ™ Fitness System is the world's smartest, simplest and most scalable fitness business opportunity.
Exerbotics measures the unique fitness abilities of any individual and align with their personal abilities and their personal ambitions. It is a fusion of a scientifically optimized workout blending strength and interval training that anyone can do.
Aren't There Gyms Everywhere?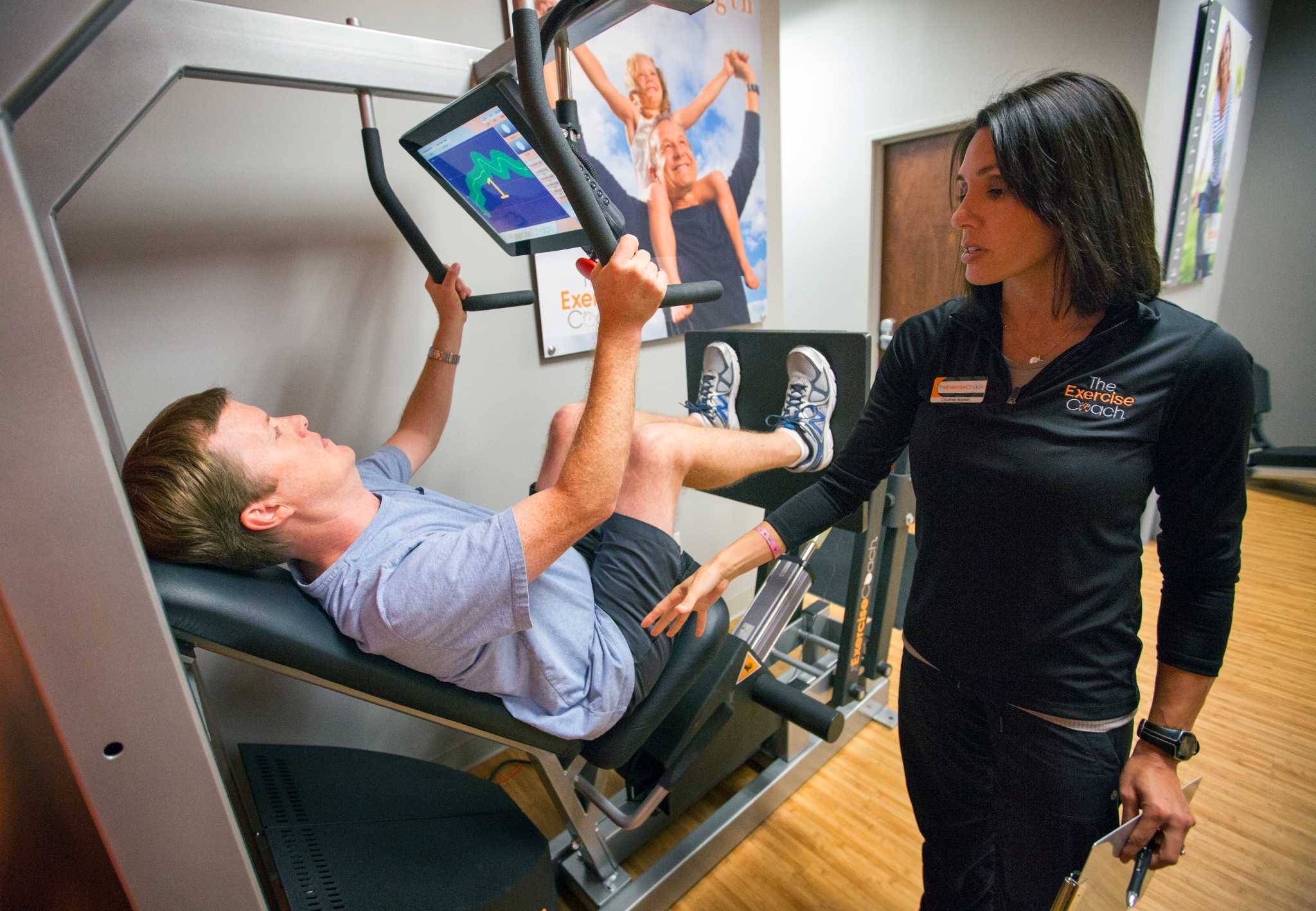 Not like this one! There are plenty of places to go to exercise. The problem with most of these places is that they fight over the 15-20% of the population who love to work out. These avid exercisers are self-motivated people who jump from fitness fad to fitness fad looking for a new workout. But that means 8 out of 10 people are not exercising regularly. The Exercise Coach has the perfect solution for the majority of people who have found traditional exercise tedious, intimidating, ineffective, or just unpleasant.
The Exercise Coach has pioneered an approach aimed at the 50+ marketplace.
60 million adults in the Us are over 50
They hold 70% of the discretionary income
They are far more loyal, with an average length of membership that's 2 years longer than the average customer
80% of these 50+ consumers report that they are unsatisfied with the current fitness options. The hot, sweaty, crowded and large fitness scene just doesn't appeal to a sophisticated and older client demographic.
There is NO OTHER NATIONAL BRAND in fitness that meets their needs and understands their challenges.
Why Choose Us?
Low investment ~ Strong Financials ~ Quick ramp up
Unique niche for an older & sophisticated demographic
Recurring monthly membership revenue
Smart – utilizes proprietary equipment and technology for the most advanced fitness and exercise solutions in the world
Simple model with a small footprint and very few operational challenges and few employees
Scalable – perfect for multi-unit franchisees with industry leading systems, designed to free up the owners' time to work on the business rather than in it
The time is right…poised for rapid growth, great territories are still available
Ideal Candidate
We're not just looking for fitness people to be franchise owners. Our ideal franchisee is someone who would make a good Exercise Coach client. We're most interested in finding quality people who understand the need for effective exercise in their own lives and would feel good about delivering it to others.
Additionally, our business is one where the owner can work on the business rather than in the business. You'll be hiring and managing others to deliver The Exercise Coach System to your clients, and they will receive in-depth training and certifications. This allows you to own more than one Exercise Coach Studio, if you so desire. Don't let your lack of fitness industry experience make you feel disqualified – in fact, some of our most successful franchisees came from other professions.
If you are interested in driving business results, like to work with small teams, change other people's lives and are energized to control your own future, this is a PERFECT fit!