Rotisserie Benny Franchise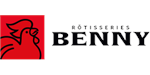 Rotisserie Benny - Restaurant Franchise
Join the Rotisserie Benny family and own your own rotisserie chicken restaurant.
Territory Information
Calgary
Other Areas Available

Canada
Profile
ROTISSERIE BENNY franchises available now in Canada
ABOUT THE COMPANY
Launched in Quebec, Rotisserie Benny was a rotisserie chicken restaurant established by a family of poultry farmers in 1960. A Quebec institution, Rénald Benny grew the family business, which has continued to evolve over the last 60 years.
We continue to honour the family tradition by following the secret recipes passed down through the generations, offering the juiciest chicken with irresistible golden and tenderness in every bite. Our commitment to serving the best quality chicken at affordable prices is why our loyal customers continue to choose Rotisserie Benny.
WHY CHOOSE ROTISSERIE BENNY?
Rotisserie Benny was founded by a family who values the importance of sharing a meal with loved ones. We created a quick-service concept for grabbing dinner on the go, making it easy to provide quality meals. Our locally sourced, grain-fed poultry is air-chilled and never frozen. This commitment to quality is why families love the delicious flavours of our slow-roasted chicken.
We pride ourselves on specializing in fast takeout and delivery service. Dinner doesn't have to be complicated; our locations are designed to make takeout simple and easy, and always with a smile from our team. The Benny family continues to grow with new sites offering fast, casual dining areas, with a comfortable, welcoming ambience.
Our menu showcases our chicken in so many ways, including:
Unique crinkle-cut poutine, topped with delicious rotisserie chicken and homemade gravy
The hearty Benny club sandwich loaded with tasty chicken
Fresh, healthy salads and chicken wraps
Slow-cooked, tender and juicy ribs
We use a simple and efficient online ordering platform, making delivering Benny food that much more convenient. Whether it is for friends and family or corporate events, we are dedicated to providing speedy delivery, placing customer satisfaction at the heart of everything we do. Your Chicken, Our Passion!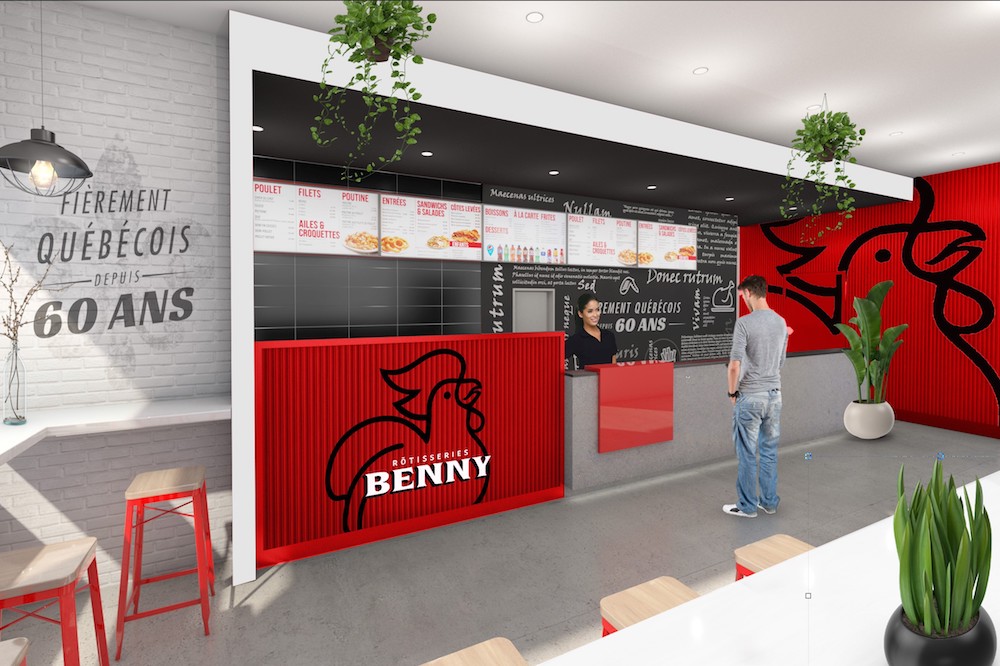 WHAT DOES ROTISSERIE BENNY DO?
What we offer is simple: the best rotisserie chicken using our unique recipe. We have designed a fast and efficient service for dine-in, pickup and deliveries.
With six decades of experience, we are in a strong position to offer new franchisees the opportunity to join our family and have your own restaurant. You'll have our full support, meaning you can run your business but never find yourself alone. We want to see you succeed!
FRANCHISE BENEFITS
Making franchising as simple as possible
Operation manuals and supervisor support to facilitate success
Exceptional operation support from head office
We offer the leading trends in marketing strategy with national advertising
Legal support for all leasing negotiation and support
FRANCHISEE REQUIREMENTS
Restaurant experience an asset
Autonomous and driven for success
Understanding of the franchising model
Management and operation experience needed
Operating partner available, or qualified manager who will operate on behalf of the investor
FINANCIAL INFORMATION
Franchise Fee: $25,000 CAD
Unencumbered Cash Required: $160,000 - $260,000 CAD