Pre-Party Frozen/Craft Beers Franchise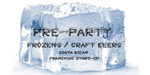 Pre-Party Frozen/Craft Beers - Microbrewery Franchise
An exciting new microbrewery franchise is launching in Costa Rica and is set to take franchise partners on to success.
Finance requirements

Franchise Fee:

$20,000

Liquid Capital:

$260,000 to $400,000

Minimum Investment:

$260,000

Areas Available

Costa Rica
Profile
A drink franchise to quench all thirsts:
The Owners thirst for profits: As sole providers, we control the production and delivery of our limited and low-cost inventory of franchise branded products. The use of on-line POS & robust video documentation, will result in the measurement of three key aspects. One, tight inventory control, minimizing theft and shrinkage. Two, accurately gage sales productivity of each minimum wage but sales commission incentivized worker. And finally, number Three, employee adherence to Pre-Party's sales generating policies and protocols, of proven sales techniques.
The Sales Associates thirst for easy money: Easy, be bilingual & of engaging personality clearly manifesting "the more I sell the more I make" and "I'm responsible for sales" Successful part time trial employees can become a full-time sales associate, through a demonstrated thirst for making sales.
The Clients actual thirst: Pre-Party associates will actively sell Frozen Daiquiri like Frozen fruit drinks and Craft Beers to clients, who didn't even know they were that thirsty! Pre-party drinks are accessibly priced at our eye-catching establishments at multiple beach locations!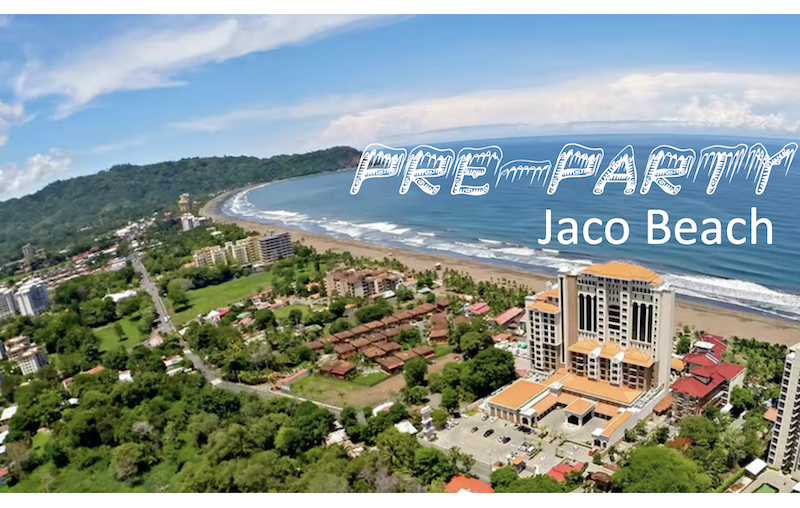 An improved franchise business model.
There is a famously successful frozen daiquiri franchise that was developed out of a small start-up in New Orlins La in the early 1980's, then exploded into Florida and is now serving over 25 million frozen daiquiris per year. Many of these locations serve exclusively, frozen daiquiris and nothing else. This is the successful model we are using, but with a thirst-quenching twist of adding craft beer by the glass or liter to-go, as a second popular drink option to Pre-Party frozens!
So rather than buying into an existing big-name franchise, we simply open three Pre-Party Frozens & Craft Beer stores with direct investment in the finest; equipment, rental-location and people and protocols. All the preparation and investment deserve a sustained, marketing push for the Pre-Party brand establishment and is a notable first year start-up cost line item of merit!
Because its Costa Rica we have sourced locally available fruit concentrates and will make a big deal out of the 100% organic CR fruit language in sales advertising to kids and people who don't drink. For those wanting alcohol infused frozen, Pre-Party baristas will literally push pump a shot of rum or vodka, into the cup resulting in a hard frozen, at a per shot extra charge!
Adding our own branded Pre-Party craft beer by the glass" and in to-go liter bottles, is an obvious improvement over the single product approach used by the big US franchise selling only frozen daquiris. Pre-Party Frozens and craft beer, targets three markets: kids and non-alcohol drinkers, along with the hard Frozens, and craft beer enthusiast. All three products available in multiple sizes at a "Tico" price point attracting a broad demographic of customers.
Build and open three locations simultaneously, then EXPLODE IT ON SOCIAL MEDIA WITH CONTRACTED WEB INFLUENCERS and BOOM we have a recognizable PRE-PARTY brand!
The Brewery backing up Pre-Party franchises
Lake Arenal Brewery is Costa Rica's oldest Craft Brewery as well as the only brewery using its own on-site spring water, 100% solar photovoltaic electricity production, evacuated tube solar hot water and in-house trained local staff. Lab efficiently and consistently produces beer at a such a low per keg cost, as to be on-par with the low production cost of vastly larger breweries.
LAB produces eight of the most popular styles of traditional ale beers in kegs, that are sold to multiple bars in: San Jose the capital, Nosara beach, Jaco beach La Fortuna and other towns. Currently our one liter to-go bottles, are only available at the brewery, keg production is running at an annual average of 40% capacity at 240 5g kegs per month. LAB is set to expand, easily doubling our existing monthly 600 5g keg capacity, with the inexpensive purchase of 4 more 10-barrel fermentation tanks.
While Craft Beer sells, it is not a stand-alone product, it must be paired with food or offered in a liquor store, neither of which is new or exciting, and limits beer sales to wholesale pricing.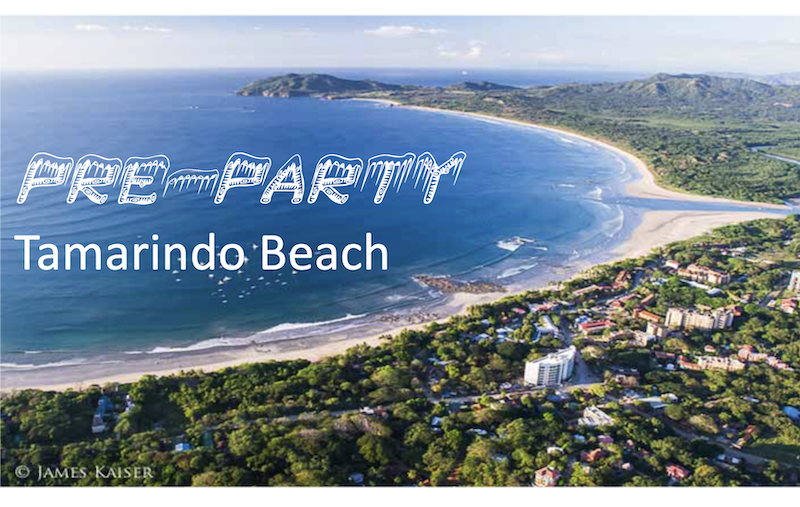 Join the team as a Pre-Party franchise owner
New and exciting, is retail pricing and parring craft beer with Frozens is the Pre-Party model! The Brewery is ready, and brings one of the two core products to the mix. Together Craft Beer and Frozens are positioned to reap the vastly better margin of retail pricing of three very popular beverage options. while the targeted markets buy at attractive prices!
So, it's simple, Pre-Party leveraging the brewery's low production cost and its experience in: Costa Rican beverage business, production, delivery, retail, POS, employees, law, marketing and retail. Pre-Party will be in high traffic footfall areas and thus effectively position its proprietary products to the public audience, while skipping the middle man.
Experienced brewery staff skill sets and a myriad of contacts are in place, just as is our wealth of government agency interaction and successful project developments. The Pre-Party brand is ripe for entrepreneur like yourself. This is the opportunity to own a part of the ever-popular food & beverage sector.
In short, Pre-Party is a fresh franchise seeking owners as ambitious as ourselves and who want be the owners bringing this fun, exciting and popular brand to a national consumer base.
Franchisee options
$400,000 of funding capital is used for existing brewery purchase and structuring a two-partner start-up (you a 49/51% split), incorporating ownership of the existing brewery and participating in owner percentual net profit disbursements on all beer sales, along with the funding of three flagship Pre-Party franchise locations. $200k of this investment to be made at brewery asset transfer & legal Pre-Party Franchiser company founding and ownership of the Pre-Party and Lake Arenal Brewery brands. The remaining $200k immediately funding the 3 franchise location openings ($67k each). In the short term we prove concept profitability with an end goal of increasing the number of franchises owned by our partnership or sold to third parties here in Costa Rica, and the rest of central America and the Caribbean.
$260 investment in the opening of three Costa Rican Pre-Party franchise locations with a 51/49% net income split (in your favor) and zero additional capital or efforts requirements on the part of the franchise. This option is 100% ownership of the new company's three individual franchise locations. This typical franchisee option includes licensing of the Pre-Party brand usage and is initially structured with brewery personnel acting as the operating partner. After one year this 51/49% net income split can be converted to 92/8% net income split, by the owner who chooses to convert to an owner-operator format, with franchisee paying the typical 8% of gross income to the franchisor and continuing to purchase proprietor products. This conversion of operational responsibilities, handlining all operational aspects and obligations of the locations is for the investor looking to run the franchise locations as an operating owner.
What do you get with Pre-Party franchise?
You will be part of the Pre-Party Frozen/Craft franchisee grup, free to choose the level of effort and responsibility you want to apply. With Pre-Party you'll get the strong support and professional experience of our existing beverage company.
Getting in early at the start-up of a soon to be recognized brand!
Own locations at three of the most popular beaches in Costa Rica.
This is a fun way to make money owning your own business with the option of passively or proactively running all or any of the three flagship locations, literally side stepping into business in Costa Rica with proven Beverage industry professionals.
Highlights of .xls scenario estimating page (available on request).
Per location, start-up costs: $66,140 +$20,000 (minimum 3 locations total $260,000)
Per location, monthly fixed operational costs estimation: $4,065 each location
Return on Investment 8h & 365 days, @ price per 16oz: $3 frozen & $3.5 beer:

Break-even requires: 10-11 drinks sold per hour

7, 16 oz Frozens, 1 L-bottle and 2 16oz beers +/-

20% ROI requires

10, 16 oz Frozens, 1 L-bottle and 3 16oz beers +/-

50% ROI requires

13, 16 oz Frozens, 2 L-bottle and 3 16oz beers +/-

Serving capacity per two sales associates results in a 191% ROI

30, 16 oz Frozens, 4 L-bottle and 8 16oz beers +/-
Yes, you read that right: two servers at capacity =191% ROI