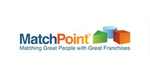 MatchPoint - Franchise Consultancy Franchise
MatchPoint consultants provide education & consultation services to find ideal franchise & franchisor candidates in the BENELUX marketplace.
Finance requirements

Minimum Investment:

€20,000

Areas Available

Belgium, The Netherlands, & Luxembourg
Profile

About MatchPoint:
We are an executive search firm for the franchise industry
We will help you understand the many different opportunities available.
We educate and advise you on how to research franchises and help you get introductions to the brands you are most suited to.
We are paid by franchisors for finding them suitable franchisees, so our services are free to you.
How We Have Helped People Just Like You:

"People have asked how MatchPoint helped me and I am happy to tell them that you led me through the process to: find out if a franchise was right for me; find out what type of franchise I would be good at, as well as enjoy, and present myself to the franchisors so that they would want me as a business owner in their organisation.
"MatchPoint was incredible. If you are interested in looking for opportunities in franchising, I would suggest you contact them. There is no cost to work with them, and you will receive great advice and guidance throughout the process!"

"I have to say I was quite sceptical when you first called to introduce your service and how you could help me find my franchise match, but I can now say, without any reservations, that my experience of working with you, as a franchise consultant, was by far the best I have ever had. I had expected that I would be lucky if you were to identify even two companies, considering my budget, but the fact that you were able to do so within my budget constraints was especially impressive. Beyond the mechanics of the search, your advice and guidance was invaluable. Keep up the good work."

"You've been more than just a 'consultant' to me. Your professionalism and expertise in what you've done for me, and what you do, have given me the confidence to fully trust and respect you. I felt so comfortable working with you, it seemed like I've known you for years.
"There're so many things to thank you for, that I don't know where to start. You're a good man Mr. Scott and without hesitation I will continue to refer my friends and family to you. It's really been an amazing learning experience working with you, and also a great privilege.
"Thanks a million once again and I wish you nothing but continued success."
Meet Theo Bouwmans:

"My years of business experience have made me what I am today and I am now using this to motivate others to take that step to business ownership, just as I did, and experience the freedom it gives them. The joy of making your own decisions and being responsible within your own company is something that I wish everybody could experience. As the first Franchise Broker to represent MatchPoint in the BENELUX region I am here to help individuals, couples and partnerships make the transition from employee to business owner and achieve their goals in a franchise that complements their skills and talents.
Why use MatchPoint?
With more than 1.000 franchises available in the BENELUX region it is very likely that you will become confused by the variety of franchise choices available to you. At MatchPoint we know the difference between the good choices and those that should be given a wide berth! We will help you discover the one that is just right for you, helping you to reach your personal and business goals.
What We Do:
Your MatchPoint consultant will help you to find your 'perfect' franchise partner by first ascertaining whether or not you're cut out for franchise ownership at all.
Unless you fully understand what to look for in a franchise, you can, potentially, make a very expensive mistake. It is a situation where independent advice and guidance are essential to you – MatchPoint minimises these potential risks by introducing you to the most suitable franchises, and guiding you through the appraisal and purchasing process.

Get Started Today
Contact us via the form and one of our franchise consultants will contact you to discuss your situation, and together you will decide whether to move forward with the MatchPoint process.
MatchPoint can help you evaluate and select the right franchise business. While franchise investments vary, you will need a minimum of €20.000 liquid capital AND a net worth of at least [£100.000] (securities, investments, pension funds, home equity) to meet the minimum investment parameters of most franchise companies.