Hemporium Business Opportunity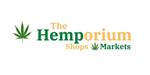 Hemporium - CBD Oil Business Opportunity
CBD products have exploded as a market, and Hemporium has been riding this wave now for two years.
Territory Information
Norwich
Franchise Fee:

£9,750
Total Investment:

£5k
Liquid Capital:

£15-18k
Profile
HEMPORIUM – The exciting opportunity to reap what you sow in this fast-growing, eco-friendly industry!
The HEMPORIUM concept is growing throughout the UK and this is the chance for you to join and take on your very own shop!
ABOUT THE COMPANY
CBD – short for cannabidiol – was legalised in the UK in 2018 and is the basis for a wide range of health foods and products, with evidence showing they can help both physical and mental ailments. CBD products have exploded as a market, and Hemporium has been riding this wave now for two years.
We have a small chain of shops looking to expand over the short, medium and long-term future. Hemporium is the exciting new concept that offers you the chance to make a huge success both financially and from the knowledge that your products benefit people in all kinds of ways!

WHY CHOOSE HEMPORIUM?
The Hemporium Shop concept is currently spread across five shops, with three more openings in the coming months.
With a 'no risk' stock RRP coverage of your investment, you have the opportunity to earn your ROI in the first 2/3 months of opening your shop. Very few investments give this kind of payback and in such a short time!
We will demonstrate how this is possible from the moment you contact us and decide to proceed. This is the chance to get in on an in-demand business that will only grow and grow over the coming years.
Hemp is an environmentally friendly product to grow, so you will be doing your bit for the planet by bringing these healthy and sustainably produced products to customers keen to find something good for themselves and their world.
WHAT DOES HEMPORIUM DO?
The dramatic explosion of CBD and hemp products in the UK marketplace has led to a massive interest in and strong demand for these products over the past three years.
The Hemporium Shops fill this void by offering first-hand knowledge and information to prospective customers which isn't available online. We provide the educational link necessary to give the knowledge and assurance to enable customers to make decisions about their ailments and the growing array of products available for them.
BENEFITS
No risk investment.
Great support in finding and setting up your shop.
'Live' training in an existing Hemporium Shop.
Proven and great selling CBD and hemp products.
Excellent returns on investment and products.
FRANCHISEE REQUIREMENTS
Enthusiasm and belief in the product and concept.
First-hand knowledge of using the product – whether you, family, friends or colleagues – is advantageous.
Some retail knowledge is beneficial.
Any medical knowledge, natural products or similar, is helpful.
Interest in building a business selling a product with mass media coverage and is growing at a phenomenal rate each year.
TESTIMONIAL
"I observed the very first Hemporium Shop and watched it grow and grow as well as becoming a dedicated customer trying many of their great products. The experience led me to ask the owner if there was an opportunity to open my own Hemporium Shop in Norwich and I am so pleased that this was possible. Even during the pandemic being able to offer 'click and collect' as well as offering online the opportunity to buy CBD product which helped many to overcome their anxiety, depression and sleep issues paid our overheads and some. One of the many great opportunities this product provides is recurring sales when customers find that continued use of this organic natural product continues to provide relief from their personal ailment."
Deniss Lusnikovs
Hemporium  Shop – Norwich