Economical Translation Consortium Franchise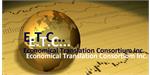 Economical Translation Consortium - Administrative Outsourcing Services Franchise
The timing is perfect to offer administrative outsourcing services for infrequent work.
Territory Information
Texas
Franchise Fee:

$12,500
Profile
Economical Translation Consortium franchises available now in the USA.
ABOUT THE COMPANY
E.T.C. was founded in 2013 as a translation company for commercial and government clients and we quickly found success. Since then, E.T.C. has faced many challenges as both its industry and technology have evolved to the point where now only complex, unique language needs human intervention, such as in engineering and the sciences (known as technical translations). Also, global trade has slowed due to political events and the pandemic.
Despite all of this, E.T.C. has adapted itself into an administrative outsourcing company, ensuring its continued success. We have a new service line that will start marketing by early February.
WHY CHOOSE E.T.C.?
As an E.T.C. franchisee, you will get an entire U.S. state as your sales territory! It comes with no internal competition, and you will get to utilise online ads specific to your state.
We provide all you need to get started and continue to provide services for the initial franchise fee, such as:
Unlimited email accounts
Unlimited phone extensions
Back-office support
Client billing
Client default insurance
Errors and omissions insurance
24/7 live attendant
The great news is that this can be a work from home business as we run on both phone and online transactions. Sales are very predictable by the numbers:
15 cold call contacts make a sale
30-50 targeted P.P.C. makes a sale
300-500 display ads make a sale
You will either need capital to pay for online ads (LinkedIn, Google) or be able to make 100 calls to get 15 contacts for one sale.
One of the best aspects of this franchise is that you will build up recurring revenue, so you'll get to know your regular customers, making your work increasingly engaging and pleasant. A bonus of repeat custom is that eventually only minimal marketing is required.
WHAT DOES E.T.C. DO?
Due to the pandemic and financial constraints, employers are looking to cut costs and avoid sick days by outsourcing. The timing is perfect to offer administrative outsourcing services for infrequent work such as:
Technical Translations
Content Writing
Graphic Design
Web Design / Hosting
SEO / PPC
Animation
Data Entry
Subtitling
Transcription
Consulting
BENEFITS
The recurring revenue stream from repeat clients
Work from home or a location of your choice
Easily predictable sales
Your own territory to market
Ability to sell your franchise at a higher price
FRANCHISEE REQUIREMENTS
You will need to provide internet, computer, phone, and workspace (home or office). You will be the front-line account manager dealing with the customer, taking the order, seeing the order to completion with the customer, and taking payment.
For this work, you will need to have prior office experience and customer service skills or be able to hire a team. We do all the rest!
FINANCIAL INFORMATION
Franchise Fee: $12,500
Minimum Investment: $20,000
Total Investment: $20,000