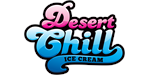 Desert Chill - Ice Cream Franchise
Desert Chill Ice Cream franchises are now available in the UAE.
Territory Information
Location:

Al Ain
Total Investment:

from 50,000 AED
Other Areas Available

Northern Emirates: Includes, Sharjah, Ras Al Khaimah, Ajman, Umm Al Qwain and Fujairah
Profile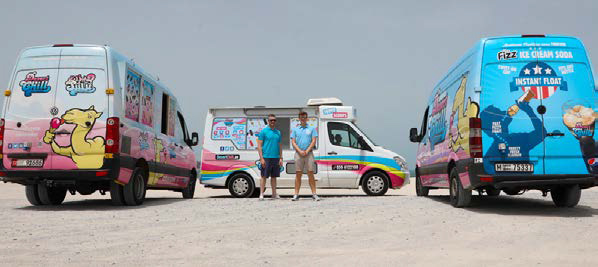 Popular Desert Chill Ice Cream franchises available now in the UAE
Desert Chill Ice Cream franchises are now available in the UAE. Find out everything you need to know, including the cost to start this franchise in minutes here!
ABOUT THE COMPANY
Established in 2008 in the UAE, Desert Chill offers a unique experience, bringing joy to thousands of people through its flagship ice cream parlours, kiosks, ice cream trucks, tri-scoopers and satellite points-of-sale. We cater to large public events, intimate family gatherings, weddings, various celebratory parties, and partner with schools and corporate offices.
Desert Chill has been committed to serving loyal customers via daily rounds, delivering directly to their residents, and making ourselves available at a wide range of events. To date, we've delivered more than 52 million ice cream products and have exponentially grown year after year. We now have eleven ice cream vans in prime locations and catering for multiple events, expecting to open more than 70 fixed and mobile sites in GCC to be launched by 2022. To achieve such a feat, we continue to focus on four fundamental pillars: safety, hygiene, reliability, and customer service.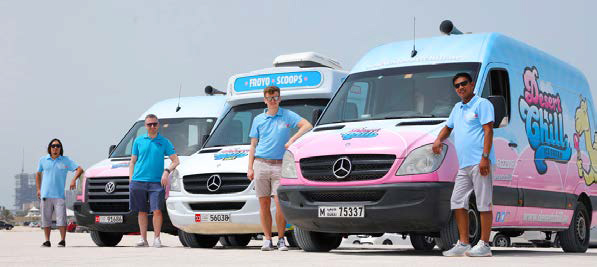 Desert Chill ice cream also offers an extended menu of crepes, waffles, homemade bakeries, banana split, doughnut ice cream, soft serve, push pops, milkshakes, waffle cones and our unique roasted coffees.
Our units come with state-of-the-art ice cream freezers for gelato, soft serve, sticks and push pops to form renowned kitchen manufacturers, meeting the highest standards for insulation, cooling, and heating.
WHY CHOOSE DESERT CHILL?
Desert Chill ice cream represents an authentic and dynamic taste in its diversified products, providing your taste buds with a premium experience. As part of our location finding services, we balance your specific requirements with an eye for leveraging high footfall areas.
Our customers depend on our consistency and quality, which is why we provide extensive training across all areas of the business so that you feel confident about your new franchise. We also offer ongoing administrative support, including accounting and recruiting, as well as a dedicated helpline.
Our advertising and engagement and activation program will generate your perfect Desert Chill ice cream brand with maximum effect.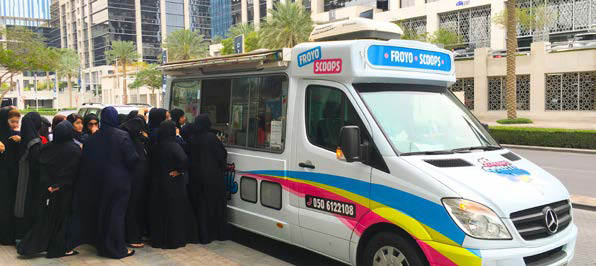 WHAT DOES DESERT CHILL DO?
We offer three basic types of service:
VAN
A mobile facility that's ideal for events.
Great for birthdays and group gatherings.
Always welcome at beaches and outdoors.
KIOSK
Great for large indoor public areas.
Popular in strip/community/street malls.
MOBILE KIOSKS
Ideal for entertainment centers and movie theaters.
Welcome at kids' clubs.
We also offer products via online ordering using our app, which is excellent for events and pre-assigned bookings, as well as parties and events.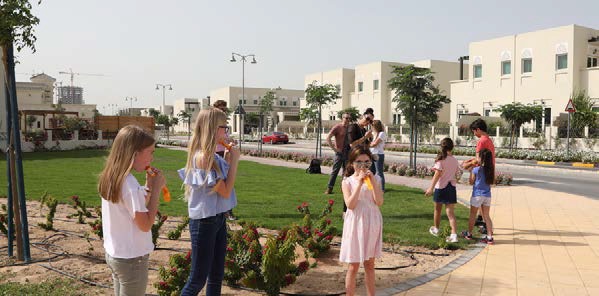 BENEFITS
HSE Excellence (HACCP)
Ops manuals systems
Extensive support
Launch training
Strong strategic partnership
Full license to operate
POS system support
Financial information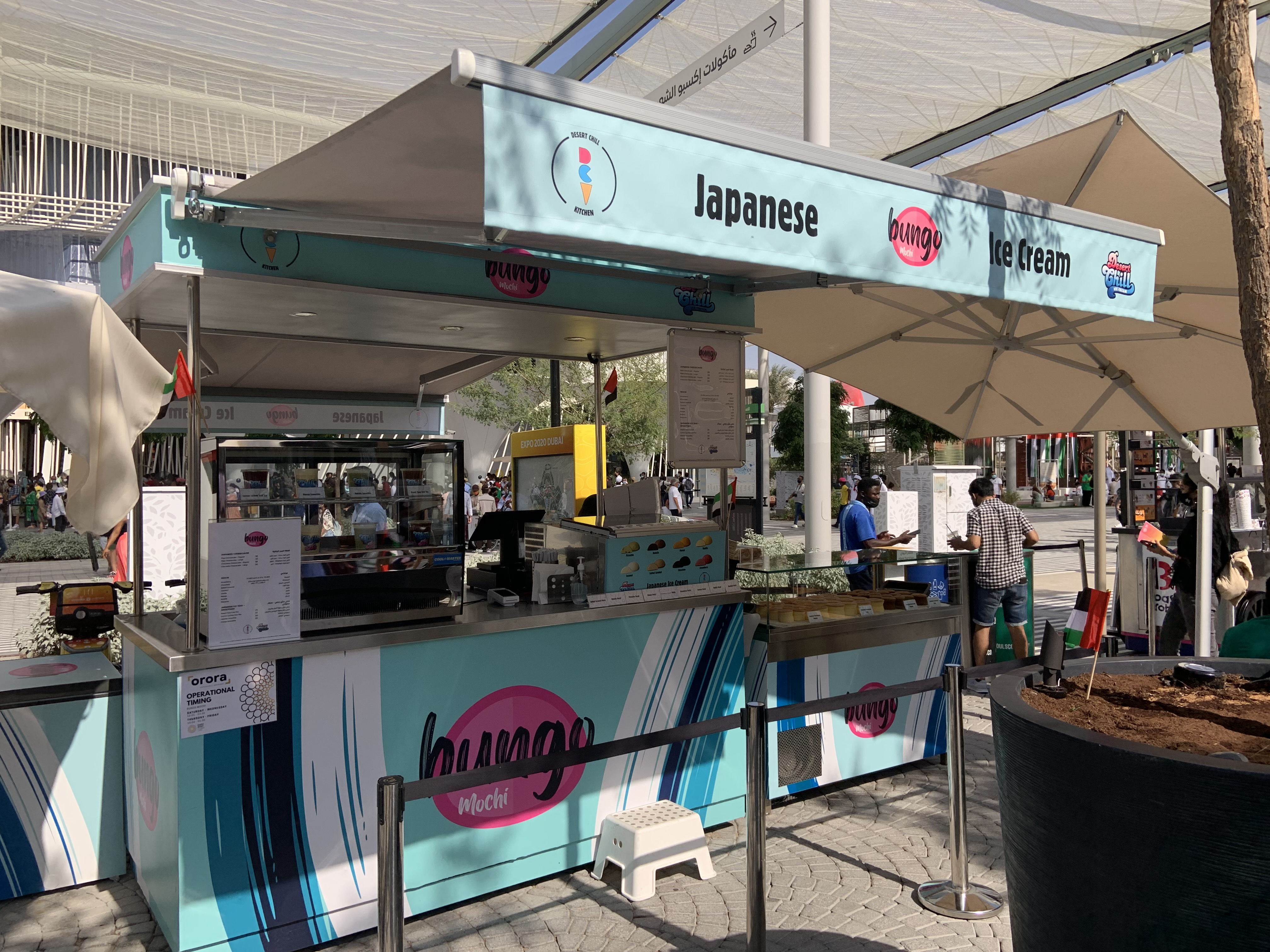 Area developer model (per emirate)
Area Franchise rights 185,000 AED
Unit cost 150,000 - 200,000 AED
4-5 units per emirate
5% revenue
1% marketing
Product supplied by Desert Chill Kitchen
Kiosk
50,000 - 80,000 AED Kiosk Build and Equipment
Opening Fee: 35,000 AED
6% Revenue
1% Marketing
However Kiosks yes. Indoor or Outdoor
Entry Level Investment
Space required 3 x 2 m or 3 x 3 m.
Desert Chill, Wild POPS or Bungo Mochi.
Franchise Fee $8,000 / Unit
Royalty 5% of Gross Sales
1% Local Digital marketing
Product purchased from Desert Chill Kitchen
Descriptions:
Desert Chill Ice Cream – A Family fun offering of a variety of Scoop Ice Cream and Kids Novelties.
Wild POPS – A new sub-brand concept created for EXPO2020. A Range of delicious Stick based Kids Popsicles, Fruit based Sticks & Premium Dessert Gelato Sticks.
Bungo Mochi – Our handcrafted Delicious Japanese Ice Cream Concept was incredibly popular with international guests at Expo, serving Authentic Mochi in a range of delicious flavours. Supplemented with Fresh Japanese inspired Beverages, and Japanese Cheesecakes.